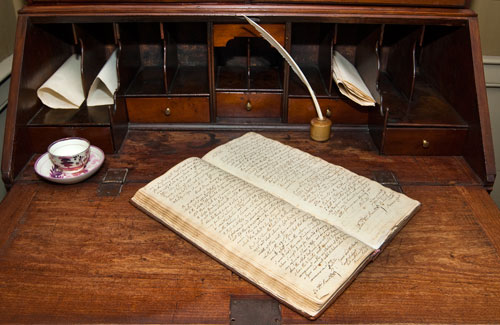 Built more than 200 years ago, Cossit House is one of the oldest surviving houses in Sydney and, from 1787 to 1815, it served as the family home of Reverend Ranna Cossit, his wife Thankful and ten of their thirteen children.  Despite its simple wood-framed construction and its tiny rooms, the house was considered both comfortable and generous by the standards of the late 1700s.
Arrive at this little house on Charlotte Street and be greeted by friendly and knowledgeable museum staff dressed in period costume.  Take a tour of the house to discover what daily life was like for parents and children in the Cossits' time; see items such as Rev. Cossit's original ledger and furnishings typical of the 18th-century; step outside to find a modest heritage garden that would have been fitting for the needs of the once bustling household; learn about the role religion played in the early days of the new colony; and hear stories about the history of the loyalists and how their arrival shaped the development of Sydney as the region's capital.  
For hands-on fun, take part in demonstrations of traditional skills like lace-making, butter-churning, weaving a rag-rug, candle-making and stitching a sampler. Visitors interested in New England colonial architecture and furnishings will find the museum of particular interest.  Inside, several of the rooms have been furnished according to an 1815 inventory of Rev. Cossit's estate, effectively depicting the typical household effects and the sparse fashion of the time.