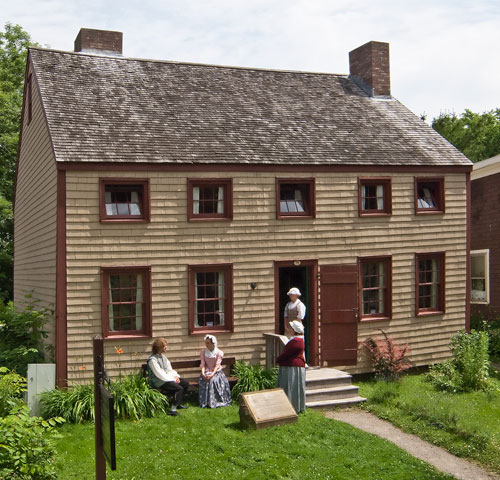 Cossit House
Built in 1787, Cossit House is one of the earliest examples of neo-classical Georgian architecture in Nova Scotia.  The one-and-one-half storey, wood framed home was originally built with timbers that were transported from New England and assembled upon the property in Sydney. 
Similar to other Nova Scotian structures of its period, the house's exterior is characterized by a rubble-stone foundation, a gable roof and six-over-six wooden framed windows.  Some of the interior architectural features that define the house's historic character are its central hallway plan and the paneled walls found in the front hallway.
Throughout the years, the house has passed to many different owners and has been through several renovations; however it has since been restored to its 1787-1800 period, the years that Rev. Cossit and his family lived in the house.
Today, the house, including its surrounding property, is a provincially designated heritage site. 
Restoration
In 1800, Reverend Cossit was transferred from Sydney to Yarmouth in order to circumvent potential controversy surrounding his growing political aspirations.  He lived out the rest of his life in Yarmouth and following his death in 1815, his property was divided among his 13 children.  In 1826, the house in Sydney was sold to Mr. John Lorway. 
After 1878, the house changed hands a dozen times before the Old Sydney Society, in partnership with the Nova Scotia Museum and the Provincial Government, restored the house to its original 1785 to 1800 period.  Today, the house operates as a museum that commemorates the contribution the Cossits made to the religious, political and educational development of early Sydney.
Cossit House is a provincially registered heritage property under Nova Scotia's Heritage Property Act and is part of the North-End Sydney Heritage Conservation District, designated in 2008.
(Source: Nova Scotia Provincial Registry, Heritage Property Program, file no.010)